Uppenbarelsekyrkan söndag 17 februari 18.00
John Rutter har i flera decennier skapat välklingande, tilltalande kyrkomusik som vilar tryggt i den starka anglikanska sångtraditionen. I verket "Mass of the Children" blandar han vuxenkörens bärighet tillsammans med barn och ungdomars skira röster. Valet att göra denna musik blev inte svårt då Uppenbarelsekyrkan har två duktiga unga körer. Tillsammans med solister och stor orkester blir detta en mycket lyckad kombination.
Som extra bonus på konserten sjunger kammarkören också verk av Eric Whitacre och Ralph Vaughan Williams. Välkommen!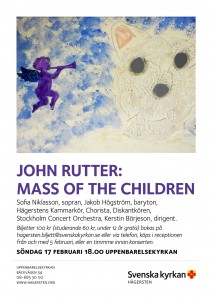 Sofia Niklasson, sopran
Jakob Högström, baryton
Hägerstens Kammarkör
Chorista
Diskantkören
Stockholm Concert Orchestra
Dirigent: Kerstin Börjeson
Entré: 100 kr/60 kr